The top 10% of B2B Marketing strategists rely heavily on podcasting as a marketing tactic.
But, why? If that's the question you are asking yourself, then welcome my friend, you are on the right page. This blog will take you through a detailed list of everything that answers this very question of yours. With that, let us guide you through the Top 5 Reasons Why Your B2B Program Needs a Podcast, as part of your B2B Marketing strategy.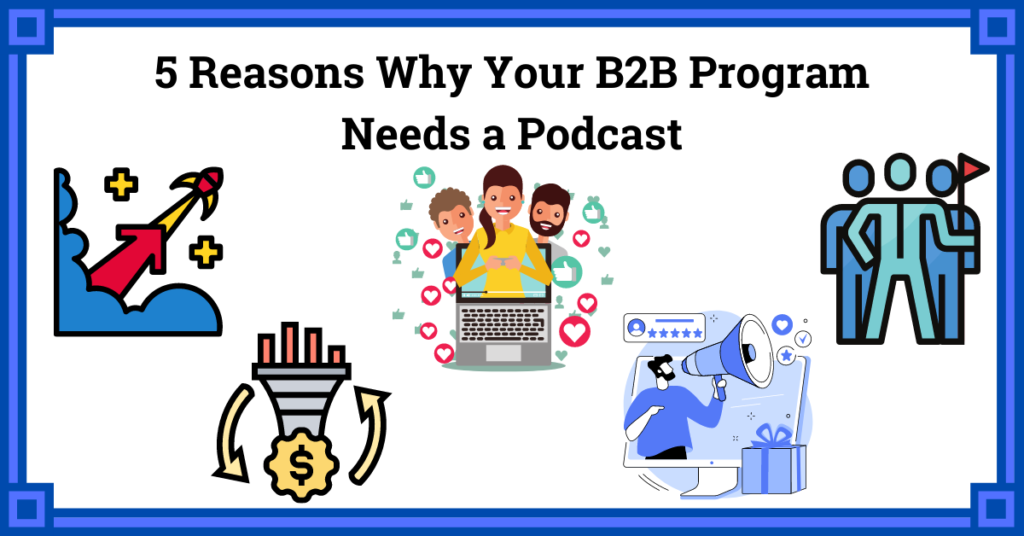 5 Reasons Why Your B2B Program Needs a Podcast
1. The Growing Nature of the Audio Space
Audio Content like podcasts has, in recent years, become one of the most highly consumed content types. This is because of the kind of space it allows the user. You could be driving to work, getting your chores done, getting a workout in, or are just there for getting expert advice and updates, you can put on a podcast and get all that information in. Podcasts require a lot less of your attention span as compared to visual or audio-visual content, which makes multitasking easier, and helps your consumers stay up-to-date.   
Now the question, "why podcasts for your business specifically?". Well, if the average millennial ratio is the audience your business is catering to, then this is the most well-thought way to market your B2B Program. Yes, you read that right. The decision-makers/influencers and experts in the businesses you want to cater to might just be around the 30–40-year age group. That is exactly the kind of audience that listens to podcasts to get a better insight into their business mindset and strategies. They are who you want to reach.
2. Marketing Opportunities through Influencer Collaborations
The Creator Economy has boomed in this last decade and so has influencer marketing. While a lot of people mis-analyse who influencers really are, they are not just YouTubers and Instagram Models.
Influencers who have established themselves in the Social Space can be as much from a business and marketing background as they could be from a fashion or lifestyle niche. These influencers can get you the benefit of the larger pool of audience and businesses that follow them. Therefore, when you get these influencers on your podcast, it opens up your business to a wider range of audiences which could be a business, a consumer, or just an active listener.
You have to put yourself out there and promote it through means like influencer marketing and collaboration in the most organic ways to reach the businesses that are your primary audience.
3. Expert Insight that adds to Thought Leadership
The last point highlighted well how you can not just grow your business but also your podcast through leveraging the already built consumer ratio of an influencer's content. Similarly, inviting an Expert (from your own business niche) to your podcast would open the gateway for you to reach the right businesses.
You might then think, "Where is the expert insight in this?". Valid question.
When you invite an expert to record a podcast episode with you, it is an insightful conversation not just for your audience, but also for you who is trying to make it big in the industry like the person sitting in front of you has or is on the path to. While in some cases you might have an upper hand in the area than a guest you have on your podcast, their experiences in the businesses might teach you something that would prove to be a valuable resource for you.
When you talk to multiple experts through the medium of your podcast, it would lead to a compounded effect of thought leadership that would help you grow your B2B program faster than anything else.
4. Direct and Referral Based Conversions
The B2B Experts you call onto your podcast would by the end of the episode's recording have built a rapport with you. This would allow for a lot more accessibility for both parties, you and your guest when you need help with a business-related activity that the other might have an insight into. This could save you not just tons of time but could help you take the more aware path and you are much less likely to incur losses on silly business errors one makes while new in the B2B industry.
Rapport Building through a shared episode of discussions and advice for your audience would also help the expert get to know you better. And it might just happen that they see your business as the right fit for an investment or project. Even when this does not happen, and direct conversion is not the end result, you become a distinctive memory in this expert's business mind-frame. And the next time another business associate asks them for a B2B program referral in your niche, you might just get your next client through them.
5. Brand Building and Brand Awareness
Just like Blogs and Videos, Podcasts have their own audience. Not everyone consumes all kinds of content, and therefore adding Podcasting to your market your B2B program can widen the range of audience your content reaches out to.
This not only helps increase brand awareness but also in completely revamping and building your brand anew in the most positive way through enhanced expert input.
Podcasting is for many a more informal kind of platform, both as a consumer, and as a business. Therefore, it helps you build an organic and authentic relationship with your listeners who could themselves be or might refer your brand to a potential client.
If you have read on till here, wait, because we have a bonus reason #6 for you.
6. Podcasting is one of the most low-investment forms of content creation.
Every brand, especially a B2B program, needs a very strong marketing strategy, as its client base is businesses. Therefore, being a high ROI (return-over-investment) marketing strategy gives you the room to explore more.
If you have any queries regarding this blog you can comment down below and also can contact us on our contact page. If you Want to write for us you can apply for it at Write For Us.
Do you have something to add to this list? Drop us a comment below. We would love to know your reasons for starting a B2B Podcast.