This article will guide you about the structural foundation of Facility Management.
In the last article, we have discussed how the industrial revolution has drawn the attention of modern infrastructure. Smart technology, sophisticated buildings are indications of rapid infrastructural development. With such advancement, companies are now constructing better buildings & offices, installing bigger machines, focusing on safety and security. These changes are now turned out to be the most useful facilities for the people working around.
Facility Management has become an important part of the organisation to properly manage complex and luxurious facilities.
What is Facility Management?
Facility management is an instrument or a service that supports the sustainability and functionality of business physical buildings, systems and assets. It is a method of improving the quality of life of people and the productivity of the core business.
Facility – organizational assets that include buildings, systems, machines, health and safety, security.
Management – is the process of planning, execution, controlling and coordinating.
According to IFMA (International Facility Management Association), Facility Management (FM) is a profession that improves business and lives by ensuring functionality, comfort, safety, and efficiency of the built environment.
Importance of facility management
The infrastructural development is pushing companies to acquire or move into new buildings. These changes have increased the importance of keeping facility management in order to maintain the workplace more efficiently. FM has a direct interaction with humans therefore, it is necessary to keep the premises under control. The staff of the building, visitors, enjoy working at a place that has a comfortable atmosphere.
Dubai has raised the demand for facilities management since it is growing in real estate. Dubai has shown its dominance in the field of property management due to an increase in investment in the corporate sector.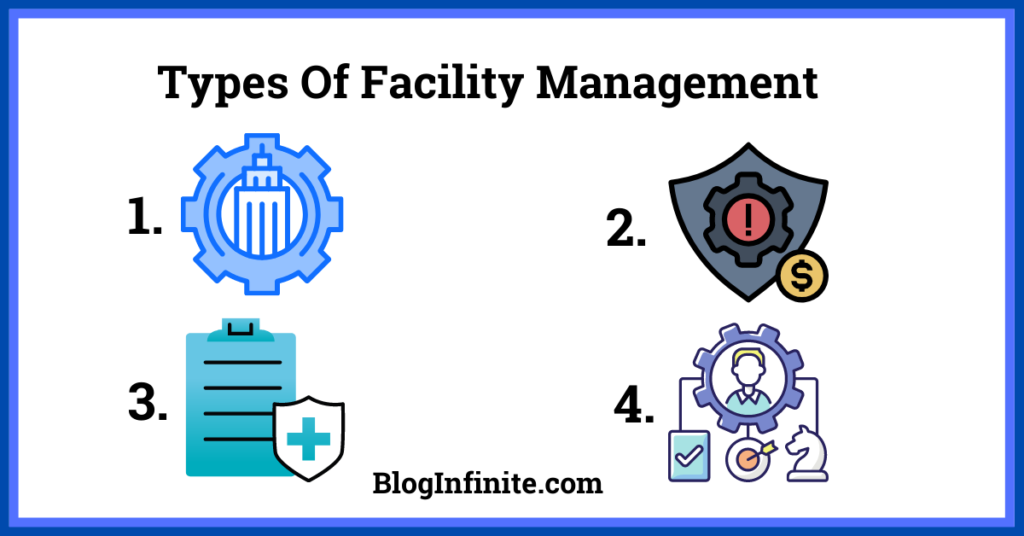 Types of facility management
Facility management is a very broad concept. It majorly diverges into four main parts. It is an ideal implementation by businesses. 
Buildings, installations systems, security devices are expensive investments for businesses yet all these facilities need special human treatment. Maintenance improves the appearance of the buildings. Minimize the cost and maximize the life span of assets. 
We know there are a lot of things placed and installed in a building, from lifts to fire alarms, lighting and so on. Maintenance of the building and artificial intelligence is an extravagant part of FM.
When it comes to security, one can think that some kind of risk is involved in it. In order to keep the workplace safe, malls, museums, schools are installing high levels of security devices, even hiring manpower to protect and manage its safety. Physical safety, people safety, products safety are the important features under it.

3. Health and Safety Management
The most concerning factor that needs extra care and attention in FM is the health and safety of the people. It is to believe that if someone is working in a safe and healthy environment then the effectiveness of the work will automatically rise. 

4. Operational management
The day-to-day operations at the factories, storage structures, retail stores, occupational space etc. come under the ambit of a facility manager. They are responsible for the maintenance, safety standards, and legal requirements of the organisation. They work on both strategic as well as operational levels, consequently covering each sector of the organisation.
The scope of facility management
As long as buildings are constructed, the scope of facility management will exclusively increase. The future of FM is versatile. In developed countries, people now know the importance of having FM to create a better environment not only in office buildings but also in hotel chains, restaurants, coffee houses etc. The perception of a changing workforce will lead to accepting facility management as a key business element.
This industry has become the fastest-growing sector in the world for over a decade. As understood today, FM is an intermediary that adds value to the organisation by being productive and carrying out the objectives. With more ideas in hand, FM can expand its scope of work and create activities that assist the company even further. They also link strategically and operationally to other support activities. 
Everything in this world has a certain lifecycle whether it is a building or a technical system. Facility management is the second-largest asset for the company thus, it becomes essential to carry out the services or maintenance activities on time to keep the workplace safe and sustainable.
We hope that through this article you have been able to understand the importance of having a proper structure for facility management. We also know the role FM plays in overseeing the facilities of the organisation thereby making the working space more optimum. Of course, the structure of FM will depend mainly upon the needs of day-to-day activities in the industry. It is also necessary for the facility managers to have intimate knowledge about the organisation so they are able to perform their duties. 
If you have any queries regarding this blog you can comment down below and also can contact us on our contact page. If you Want to write for us you can apply for it at Write For Us.