A research paper is a piece of your writing including a statement, analysis, and interpretation of your research. A research paper is like an essay where you write your own ideas but in depth. The difference is that in a research paper you have to provide information from various sources like books, articles, interviews, internet sites. Writing a research paper requires one's strong knowledge of the topic and including various methodologies to support the topic. There are various types of research papers but I will help you write a general research paper. By following the below step-by-step guide, you will be able to write your own research paper.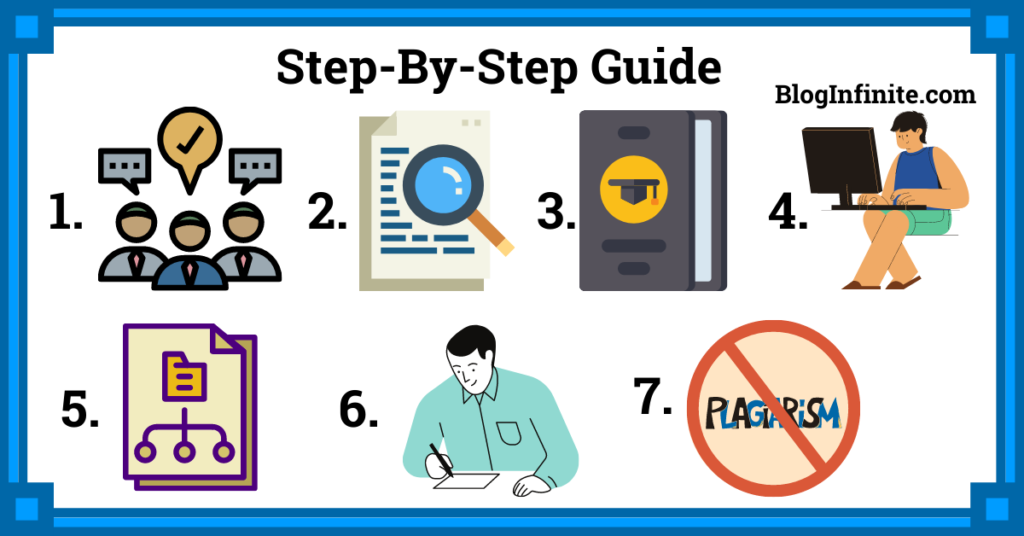 1. Understanding the Topic
The foremost thing in writing the research paper is your topic. The topic is like the first impression of your whole research paper.
Few things to remember while choosing a topic:
It should be of your own interest because then only you will be able to make it more interesting.
It should engross the readers up to the end
Take a topic which you can elaborate on.
It should be specific.
From reading the research papers of other topics to going through the various interviews, from brainstorming with pen & paper to going through different debates, a large number of topic ideas can be generated
Now, you have the topic with you. Sit down with pen and paper and jot down all the information regarding the case from the interviews, the newspaper articles, the expert's opinion, the surveys conducted, and the books. Note down every single detail you find related to the topic. Make notes of important points from your research so that later on, you can draft your research paper with the help of these notes. Remember, research is an essential part of your research paper.
It is a statement that describes the purpose of the research. It is an elaboration of your topic chosen. The information should be concise but informative and directly relates to your objective. You may have to revise the statement during your writing, but it will help you stick to your aim.
The introduction will emphasize the objective & aim of the research. It will include the background behind the topic and focus on the research areas. It will provide the answers to the questions like why this topic has been chosen and the result of this research, how the study will be carried on, and the history of this research.
5. Structuring of Research Paper
It will include formatting your research paper. Structuring your research paper will make it more readable and beautiful. For example, including a content table (TOC) makes your research paper very well organized. TOC will include a list of topics divided into meaningful sections. It will keep on changing as you complete your draft. Page margins, spacing, boundaries will make the paper more beautiful to the eyes of the reader.
6. Writing your First Draft
The First Draft will not be perfect. Here, in this section, your daunting research task will pay off. Use the keywords from your research work and write whatever comes to your mind in your own words from your point of view.
Here are some critical points for your first draft.
Just try to be unique.
Don't copy and paste the whole sentence. From the research sources.
Try to structure your content into small paragraphs to become more readable.
Express your ideas as clearly as possible.
Provide credibility to the authorities from where you have picked up the information.
The content in your research paper should thoroughly validate your thesis statement, be it through experiment the analysis of narration.
Include expert opinions to make your research more credible to the readers
If you use data from another study, remember that recent research is more valuable than older research.
Once completed, form the second draft, a more compelling, more precise vision of your first draft.
7. Revising and Check for Plagiarism
The final step in writing the paper is to revise your draft. And check for plagiarism. Now read your draft from the beginning from the reader's view. Make the changes you need to make. At this stage, you may need to make corrections to your thesis statement or change the flow of the paper. Make the changes in the TOC, if you have included it, according to the flow of your content. Content in every single paragraph should explain a different point, and all issues should thoroughly validate your thesis statement. Try to be as unique with your approach as possible.
So, these are the main parts of a research paper. I suggest investing ample time in your research paper so that you can follow a proper methodology. Research Paper is not a story of one night. Start writing and flow my mail from your research papers.
If you have any queries regarding this blog you can comment down below and also can contact us on our contact page. If you Want to write for us you can apply for it at Write For Us.