In a world that faced one of the biggest economic crises with the COVID-19 pandemic, they want to make money outside of a job has increased exponentially over the past two years. If you want to get an insight into side-hustles that can become legitimate sources of extra income, you are on the right page.
Here's a list of 10 ways to earn an Extra Income other than a job.
A vast majority of content creators around the globe started their journey by creating YouTube videos for fun until they became a lifestyle and a great source of income.
While some people have made it their full-time job, YouTube is an excellent platform for you to explore, even if you only have a couple of hours at hand every day. Ad-sense and brand deals are the top two ways YouTube can help you monetize your content for an extra income.
2. Short-form Content Creation
Short-form video content is one of the most popular ways of making money online while having fun with what you create. What started with TikTok has boomed up with the coming up of platforms like Josh, Moj, and Instagram Reels. Most of these platforms offer monetization of content as a feature for creators.
Whether you work in a full-time job, have a business of your own, or are still a student—a phone, an internet connection, and a couple of hours at hand every day are all you need to monetize your social media accounts.
Content creation is now limited to Text, Image, and Video platforms. Audio content, like podcasts, is one of the most trending forms of content consumed by the masses today. This is a great way to earn an extra income for people who want to create content online but find themselves camera shy.
Are you a tech geek? A gaming wizard? Have a productive lifestyle and want to spread the word? Podcasts are a great way to go.
Freelancing has boomed as a career choice since the start of the COVID-19 pandemic, which led to many employees losing their jobs. However, it is also one of the more flexible ways to add an extra income apart from your full-time job. Whether it be Virtual Assistance, Content Writing, Marketing, Photography, or even Event Management gigs, if you have the right skills, you can take up part-time or contract-based freelance projects as a source of extra income. LinkedIn, Upwork, Freelancer, and social media platforms like Twitter and Instagram can be great places to find calls for pitches.
If you have a passion for writing or talking about something that you have achieved in life, e-books are a great way to turn your story into a mode of income. While you can also create a hard copy for a book and publish it, creating an e-book requires a minimal amount of investment and offers a great return over investment.
Through this source of passive income, you can now earn money while you sleep.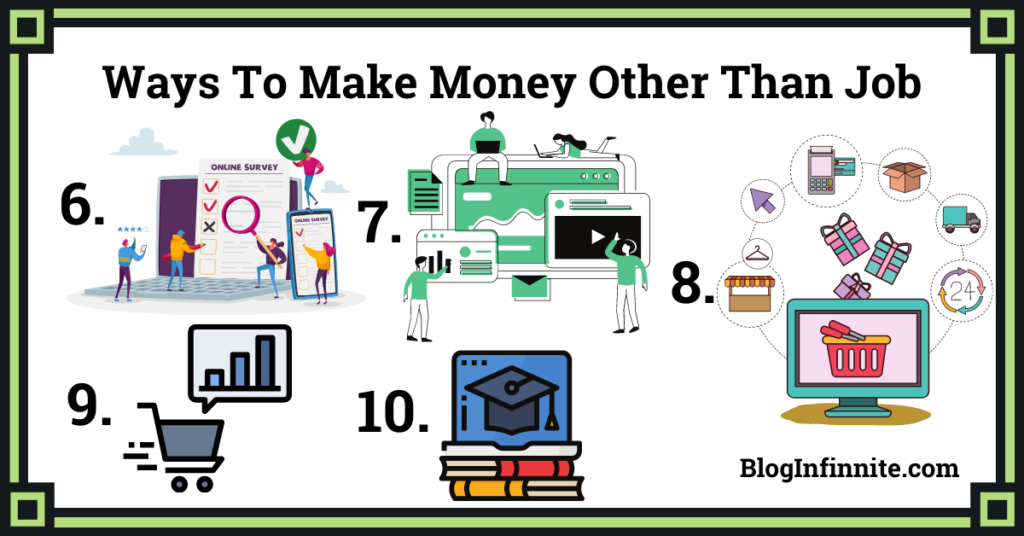 If you are a student and cannot find a side-hustle that suits your schedule, online surveys could get you started with that extra income in your pocket. These surveys are generally based on a product, policy, or service, either already a park of the market or ready for launch. With an average time of 15-20 mins for each survey, the reward policy generally entails vouchers for platforms like Paytm, Amazon, Myntra, PayPal, and more.
Platforms like Toluna, Lifepoints, Panel Station, Ipsos iSay, Valued Opinions are useful online survey websites.
Affiliate marketing is a referral program for which an e-commerce platform or online store pays a commission to an external agent that helps them generate traffic or sell their products. Amazon has one of the most extensive affiliate marketing programs.
If you have a platform to generate leads for marketplaces or online sellers/service providers, affiliate marketing can be a great source of extra income for you.
8. Selling and Reselling on E-commerce
If you want to lead a product-led small-scale business as a side-hustle or student, you can publish your product catalog on e-commerce platforms. Meesho is one of the first reselling platforms in India that caters to the reselling aspect of products without you having to go through any steps like purchasing, packaging, delivery, or returns.
While selling through e-commerce would require a setup and product requirement from you as the seller, reselling is one of the best choices to make as a side-hustle.
Print-on-demand is a business model where a company prints consumer goods on a retail basis after receiving a particular order. These businesses use public generated prints for the products they sell and provide the designer with a commission for each time someone buys a product with their design on it. This is a great way to generate a passive income.
Today, companies like Redbubble, Zazzle, and Society6 are the top 3 print-on-demand marketplaces. You can now create 1-5 prints a day using free tools like Canva and upload them on marketplaces to make money while you sleep.
If you have heard about platforms Udemy, SkillShare, and Coursera, you probably know how many people enroll for these courses every day. Whether it be for fun, to develop a new hobby, learn more about basic life skills, or upskill in your career, a large audience pays for digital courses. You can now create a one-time batch of video lessons and become an instructor on an online course platform to earn every time someone buys your course.
All of the ways mentioned above are entirely legitimate sources of earning that extra penny. I hope you found those helpful!
If you have any queries regarding this blog you can comment down below and also can contact us on our contact page. If you Want to write for us you can apply for it at Write For Us.